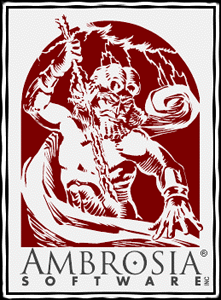 Ambrosia Software (http://www.ambrosiasw.com/) is a predominantly Macintosh software company located in Rochester, Monroe County, Rochester, New York. Incorporated August 18th, 1993 by its president, Andrew Welch, Ambrosia produces utilities and games. Their primary method of business is shareware; they allow for 30 day trials of any of their software. While registration is voluntary, most of the games have restricted feature sets if the user does not register.
While the utility Snapz Pro has sold the most copies, Ambrosia is most notable for the distribution of games. The first game produced by Ambrosia was Maelstrom (basically an updated version of Asteroids with improved graphics), which became rather popular in the Macintosh community and won several awards. This initial success led to a string of similar arcade-style games being released. Other popular titles include the Escape Velocity series, the Macintosh version of Uplink, and Apeiron (recently ported to Mac OS X).
The unofficial mascot of Ambrosia Software is Hector the Parrot. Ambrosia Software's catchphrase is "The best things in life are free for 30 days."
Ad blocker interference detected!
Wikia is a free-to-use site that makes money from advertising. We have a modified experience for viewers using ad blockers

Wikia is not accessible if you've made further modifications. Remove the custom ad blocker rule(s) and the page will load as expected.