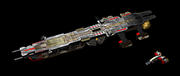 An Auroran
Firebird Bay
is a
Fighter Bay
created to hold Auroran
Firebirds
. Each Firebird Bay can hold a maximum of 6 Firebirds. You can only have a Maximum of 1 Firebird bay on your ship. Each Firebird Bay will cost 1.25M cr and weighs 80 tons. You must buy Firebird Fighters for your Bay, each costing 100,000cr.
If you have any gameplay tips, hints, or background information relevant to this topic, please post them here.
You must be on good terms with the Auroran Empire to purchase this; and completed part of the Auroran string.
Ad blocker interference detected!
Wikia is a free-to-use site that makes money from advertising. We have a modified experience for viewers using ad blockers

Wikia is not accessible if you've made further modifications. Remove the custom ad blocker rule(s) and the page will load as expected.